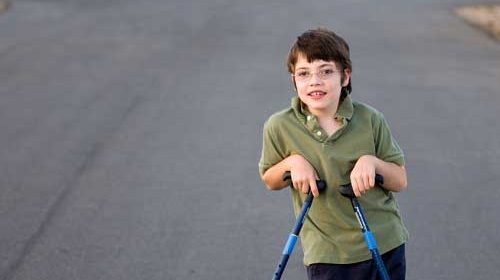 Cerebral palsy is a permanent but non-progressive damage that develops during brain growth. This damage can be due to many reasons: in the mother's womb, during birth, or after birth (convulsion, seizure because of high body temperature). Even though the brain damage is permanent and non-progressive, the child gains motor skills with growth and the motion disability changes.
Majority of the defects that are caused by CP can be treated; however, it is not likely to treat the damage through brain, which is the source of the damage. Only the results can be improved.
In the treatment of a CP patient, many medical disciplines take part: pediatrics, development neurology, pediatric orthopedics, physical therapy and rehabilitation, if necessary ophthalmology, otology and pediatric neurochirurgia. The medical team and the family of the patient is responsible of the treatment that will continue from infanthood until maturity. The family should be informed about every subject and decide to carry out this process.
The goal of the treatment is to add the CP patient to the community. The patient should be able to play with his peers in pre-school period, and continue normal schools as long as his abilities allow him to, or go to special schools if he cannot keep up.
The pediatric orthopedist will support the patient with special made devices (according to the prescription, the patients should start using the special made device after the approval of the orthopedist and see the orthopedist in certain intervals for controls.
The patient should always continue physiotherapy and rehabilitation. When a surgical treatment is necessary, the pediatric orthopedist will take part; post-operative treatment won't end. With surgical intervention, the tight muscles can be released, deformities in hip, femur, arm etc. ban be corrected, or continual treatment methods such as baclofen pomp can be applied. In order to preserve the correction and prevent reoccurrence, rigorous physiotherapy, rehabilitation, device, and treatment methods should be continued.
Treatment in CP is a lifetime procedure. Growth period in children is especially important; the children must be observed carefully.