It is observed that patients at childhood frequently consult orthopaedists for feet problems. The most frequent feet problems/feet diseases are toeing in, flat-foot and foot calluses. The role of the paediatric orthopaedist is significant in diagnosis and treatment of these diseases.
Toeing-In in Children
Toeing in is generally confused with flat-foot. The condition defined as toeing-in in children it's observed that feet step inwards compared to knees and body. Walking by stepping on the inwards side of the feet is called flat foot.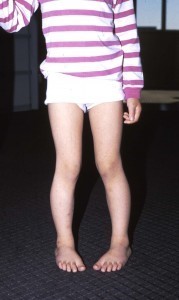 İçe basma sorununun kaynağı çocuğun cinsiyetine göre değişebilmektedir. Kız çocuklarda sıklıkla neden kalça eklemi iken, erkek çocuklarda kaval kemiği veya ayaktaki eğriliklerdir. Çocuk ortopedi doktoru tarafından detaylı bir muayene ve gerekli durumlarda yürüme analizi çalışmalarını da gerçekleştirerek hastalığın aşaması ve nedenleri kolaylıkla belirlenebilmektedir.
The source of the toeing-in problem differs by gender. While it's generally caused by hip joint in girls, it's caused by curves in tibia or feet in boys. The stage of the diseases and reasons can be easily identified with detailed examination and when necessary, gait analysis conducted by paediatric orthopaedists.
Toeing-in can be seen normally in certain age groups. It's seen more frequently especially in girls. It's observed that toeing in starts from age 3 and continues progressively until age 5. When the child is at age 10 this generally disappears.
There are several warning details in distinguishing normal development and pathological conditions. One such condition is presence of similar conditions in family members as well as having another underlying issues, condition progressing without any correction with age requires examination of a paediatric orthopaedist.
In diagnosis, the most important step after clinical examination is gait analysis. While conducting gait analysis, the child is walks while the paediatric orthopaedist observes. If there's suspicion of serious problems, the next step is using computer aided gait analysis. We have opportunities to conduct these analyses.
Scientific studies do not show any corrective effect of special shoes or devices in treatment of toeing-in. Children forced to use such devices can have psychological problems. Families shall be careful to avoid unnecessary treatments.
Flat-foot in children
Flatfoot can be defined as loss of the curvature of the sole of the child's feet and consequently stepping on the inwards of the sole. Since the fat pad at the sole of the children have not completely developed and ligaments are still flexible, stepping inwards can be normal until age of 4. This generally returns to normal at ages between 8 and 10 when the foot shape fully develops. Parents of the children at this age gap are worried of the shape of the feet and consult paediatric orthopaedists.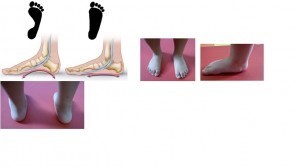 If the foot sole normally steps, if there's no problem in wearing shoes, the child has not pain at the feet and feet functions are normal, the feet are considered normal. No treatment is recommended in such cases. If there's any doubt about the diagnosis after the examination of the Paediatric orthopaedist, detailed analysis shall be made. In some cases, families are observed to be worried due to different information from doctors. In these cases sole pressure analysis can be used to observe the child. If the pressure analysis is normal or normalization is seen, treatment is not recommended.
In cases of flatfoot appearance while there's pain in the middle of the feet, in heels or back of the legs, insoles or special shoes are recommended. With developing technology, there are produced specific to the person according to foot sole pressure distribution. Use of special insoles or shoes plays an effective role in increasing performance of the child, especially in sports activities.
Surgical treatment solutions are rarely used in flatfoot in children as a last resort. Surgical treatment is preferred in cases where advanced examinations reveal that the bones that form the feet are fused at birth. In patients eligible for surgical treatment, this treatment is efficient in preventing joint disorders that may arise in the future.
Callus Formation in Children
Callus manifestation in child's sole may be first indicator of serious feet problems. Callus formation is important as they show that that foot pressure distribution is not normal. In such cases, the child shall be thoroughly examined by a paediatric orthopaedist and the reasons of callus shall be found with foot pressure distribution analysis. After the diagnosis, paediatric orthopaedist can prepare suitable treatment program.
Contents of the page are for information purposes only, you must consult your doctor for diagnosis and treatment.